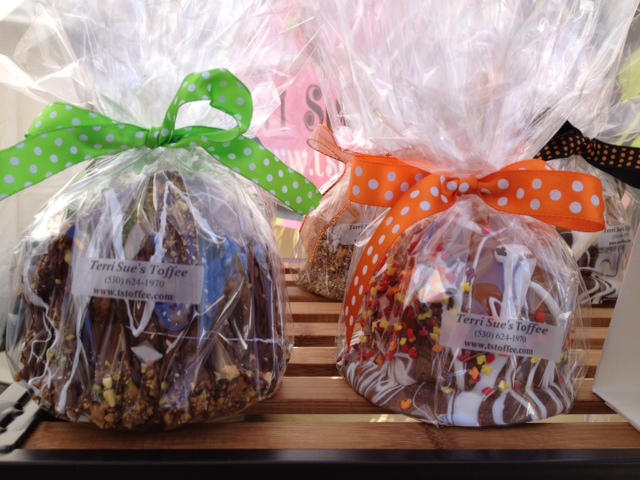 Enjoy our gourmet chocolate dipped caramel apples! Our apples are pick fresh from the local apple orchards in Paradise, California. Enjoy a fresh Fuji or Granny Smith apples dipped in our fresh made caramel and then rolled in chopped Terri Sue's toffee peices, and dipped in your choice of white, milk, or dark chocolate. Click on our Gourmet Caramel Apples link to see how easy it is to create your own apple masterpeice.
If it's toffee you are looking for then pick your favorite chocolate and nut topping. Choose from walnut, almond, or our specialty...pistachio!
Order now for quick delivery!
Gifts
Birthdays, Weddings, Holidays, Corporate Gifts, Special Occasions, or just to let somebody special know you are thinking of them…We will take care of it for you! Terri Sue's Toffee will ship your special gift anywhere in the United States and will include a handwritten note with a message you can customize.
Have a special request for packaging…Contact us! We will make every effort to accommodate your request.
At Terri Sue's we strive to make you happy and take pride in presenting your friends, family, or associates with a gift they will truly enjoy.
Weddings
Center pieces, bridal party gifts, wedding favors…We will make your special day more memorable and the best part…we will take care of it for you. Tell us what you want and we do the rest! Send us your request today terri@tstoffee.com.
Corporate Gifts
Looking for a special gift to say "thank you" to your top clients…At Terri Sue's Toffee we specialize in making your best customers feel special! Want to include a handwritten note…no problem! You can provide us with a handwritten note or we will hand write a note for you. We will ship your gifts directly to your special clients or bulk ship them to you so you can hand deliver your gifts personally. Need special packaging…let us know! We will work with you to provide the perfect gift.
Wholesale
compare side effects viagra viagra viagraInterested in carrying Terri Sue's Toffee in your location. Whether you want Terri Sue's Toffee prepackaged or in bulk, chopped on in slabs…let us know. We can accommodate your needs. To request a wholesale price list send your email to terri@tstoffe.com. We are always looking for ways to partner with our retail friends.
Packaging
When you order Terri Sue's Toffee it is packaged in a sealed cello bag to lock in freshness. From there you can pick how you would like it to be decorated. You can choose our signature polka dot box (square or heart shaped), a white gift box with a hand tied decorative ribbon and bow or a plain white gift box. Have a special request…let us know. We will make every effort to accommodate your request.
Ingredients
At Terri Sue's Toffee we use the best quality and freshest ingredients. Every batch is hand stirred, hand chopped, and hand packaged to insure you receive the highest quality product possible. We use locally grown nuts whenever possible including walnuts, pecans, almonds and pistachios. Our traditional toffee is topped with local walnuts. Walnuts are one of the healthiest nuts and scientifically proven to provide benefits to brain function. In some cases the acids in the nuts can irritate the mouth. At Terri Sue's Toffee we roast all our walnuts which neutralized the acids and introduces a rich nutty flavor. In addition to walnuts, we top our toffee with pecans, almonds, pistachios, or if you prefer…no nuts…what ever your pleasure. Tell us what you like and we will make it for you!
At Terri Sue's Toffee we use Guittard Chocolate. We chose Guittard Chocolate not only for its superior quality, flavor, and creaminess but also because of their compliance with human rights and child labor standards. We offer our toffee in dark chocolate, milk chocolate, and white chocolate. If you have a special request…we would like to hear from you!
Finally, in the heart of the toffee we use real sweet cream butter, and pure cane sugar along with an abundance of slivered almonds. We cook it to the perfect temperature to achieve a soft crunch unlike many of the hard crunch toffees that are hard on your teeth. We put the slivered almonds in early so they capture the sweetness of the butter and sugar while they cook to a soft golden brown color with superior flavor. All our toffee if gluetin free with no artificial flavors or colors. Ion, the follow-up counselling sessions and whether a patient withdraws from the program. Any drug related problem identified outside of smoking cessation session must also be documented as per the standards of practice. In addition, pharmacists may incorporate quit smoking education materials and action plans as appropriate for their patients. Documentation and record keeping each point of contact and / or meetings between the pharmacist and the patient must be documented to ensure program continuity and for the purposes of counselling, support, data analysis, evaluation and claims adjudication. Using the ministry template forms as a minimum standard, full documentation is required of all pharmacist / patient engagement including patient readiness, patient consent and agreement terms, first consultation meeting, follow-up counselling sessions and any incidence of program withdrawal. Follow-up meetings may be in person, telephone, electronic messaging or other agreed upon method of communication. The method and location of these meetings must be included in the documentation. Smoking cessation documents and associated patient records including any written referrals and patient consent documentation; drug therapy information and desired outcomes / action plans; and specifics on quit smoking plans and advice offered to the patient must be retained by the pharmacist in a readily retrievable format and must be kept on site at the pharmacy for a minimum period of ten years or as indicated in o/reg 58/11 of the drug and pharmacies regulation act. Pharmacy records that are associated with the claims submission of professional services using the ontario drug benefit health network system pin mechanism are subject to audit and must be maintained in the pharmacy for a minimum of 2 years. All documents and records relating to the smoking cessation program must be stored electronically (or as a hard copy) when completed and be readily available for retrieval at a later date. Results patients are entitled to a copy of their readiness assessment, consent forms and any documentation from the first consultation and follow-up counselling sessions. Claim for pharmacist payment and program evaluation smoking cessation claims for payment may only be submitted for odb recipients at this time. the claim submission follows the same process for submitting a claim for the medscheck program using a special product identification number (pin) pharmacy program payment pin 93899941 $40. 00 first consultation (once per year): readiness assessment is complete including willingness to set a quit date; patient has enrolled in the program and provided signed consent to the pharmacist for purposes sharing health information within the circle of care and for program data collection. First quit consultation meeting and documentation is complete. Pin 93899942 $15. buy cheap viagra viagra without a doctor prescription viagra without a doctor prescription cheap viagra online cheap viagra generic viagra online discounted generic viagra http://howtosmudge.com/pjn-generic-viagra-canadian-online-ke/ viagra without a doctor prescription cheap viagra 00 primary follow-up counselling sessions 1-3 (3 times per year = $45. If you think it sounds good you should try it…you won't be disappointed.
Share it today!