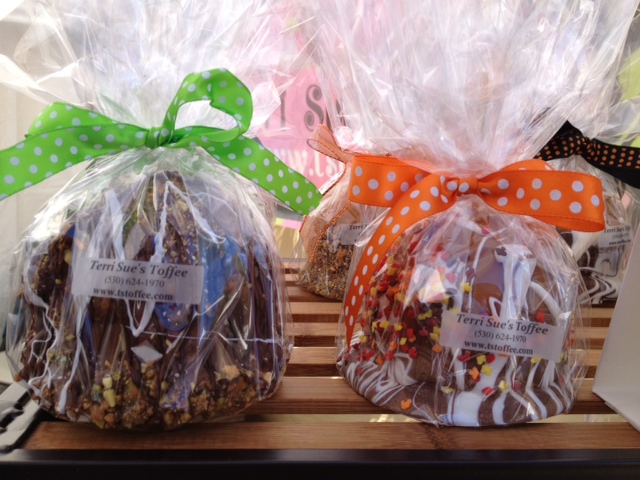 Our gourmet hand-dipped caramel apples are carefully selected by Terri Sue herself. Enjoy a fresh Fuji or Granny Smith dipped in our freshly made, buttery caramel, using our house made vanilla, then rolled in your choice of various toppings including Terri Sue's toffee crumbs, fresh local nuts, etc and drizzled with your choice of chocolate. Click on our Gourmet Caramel Apples link to see how easy it is to create your own apple masterpiece.
If it's toffee you are looking for then pick your favorite chocolate and nut topping. Choose from walnut, almond, or our specialty...pistachio!
Order now for quick delivery!
Gifts
Birthdays, Weddings, Holidays, Corporate Gifts, Special Occasions, or just to let somebody special know you are thinking of them…We will take care of it for you! Terri Sue's Toffee will ship your special gift anywhere in the United States and will include a handwritten note with a message you can customize.
Have a special request for packaging…Contact us! We will make every effort to accommodate your request.
At Terri Sue's we strive to make you happy and take pride in presenting your friends, family, or associates with a gift they will truly enjoy.
Weddings
Center pieces, bridal party gifts, wedding favors…We will make your special day more memorable and the best part…we will take care of it for you. Tell us what you want and we do the rest! Send us your request today terri@tstoffee.com.
Corporate Gifts
Looking for a special gift to say "thank you" to your top clients…At Terri Sue's Toffee we specialize in making your best customers feel special! Want to include a handwritten note…no problem! You can provide us with a handwritten note or we will hand write a note for you. We will ship your gifts directly to your special clients or bulk ship them to you so you can hand deliver your gifts personally. Need special packaging…let us know! We will work with you to provide the perfect gift.
Wholesale
Interested in carrying Terri Sue's Toffee in your location. Whether you want Terri Sue's Toffee prepackaged or in bulk, chopped on in slabs…let us know. We can accommodate your needs. To request a wholesale price list send your email to terri@tstoffe.com. We are always looking for ways to partner with our retail friends.
Packaging
When you order Terri Sue's Toffee it is packaged in a sealed cello bag to lock in freshness. From there you can pick how you would like it to be decorated. You can choose our signature polka dot box (square or heart shaped), a white gift box with a hand tied decorative ribbon and bow or a plain white gift box. Have a special request…let us know. We will make every effort to accommodate your request.
Ingredients
At Terri Sue's Toffee we use the best quality and freshest ingredients. Every batch is hand stirred, hand chopped, and hand packaged to insure you receive the highest quality product possible. We use locally grown nuts whenever possible including walnuts, pecans, almonds and pistachios. Our traditional toffee is topped with local walnuts. Walnuts are one of the healthiest nuts and scientifically proven to provide benefits to brain function. In some cases the acids in the nuts can irritate the mouth. At Terri Sue's Toffee we roast all our walnuts which neutralized the acids and introduces a rich nutty flavor. In addition to walnuts, we top our toffee with pecans, almonds, pistachios, or if you prefer…no nuts…what ever your pleasure. Tell us what you like and we will make it for you!
At Terri Sue's Toffee we use Guittard Chocolate. We chose Guittard Chocolate not only for its superior quality, flavor, and creaminess but also because of their compliance with human rights and child labor standards. We offer our toffee in dark chocolate, milk chocolate, and white chocolate. If you have a special request…we would like to hear from you!
Finally, in the heart of the toffee we use real sweet cream butter, and pure cane sugar along with an abundance of slivered almonds. We cook it to the perfect temperature to achieve a soft crunch unlike many of the hard crunch toffees that are hard on your teeth. We put the slivered almonds in early so they capture the sweetness of the butter and sugar while they cook to a soft golden brown color with superior flavor. All our toffee if gluetin free with no artificial flavors or colors. If you think it sounds good you should try it…you won't be disappointed.
Share it today!